I am often asked, "how in the world did you come up with the idea of combining garlic and blueberry?"  My response: for  several years a fellow vendor at a Grange Craft Fair who sold knitted goods would talk about her garlic jelly. I thought it sounded horrible. She wore me down.She had an old garlic recipe that she had made her own and then as we all do I modified her modification.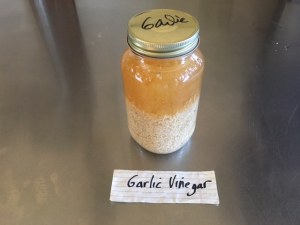 This is a two day process. Simmer minced garlic in vinegar; pour into mason jars to cool then refrigerate over night.  Drain the garlic liquid making sure there aren't pieces of garlic left in the mixture. Combine with our concentrated blueberry juice and you are ready to make your blueberry garlic jelly.
Blueberry Garlic Jelly is perfect over cheese and crackers. You can also use it to baste roasted or BBQ chicken or pork in the final stages of cooking. Finally, try it on Everything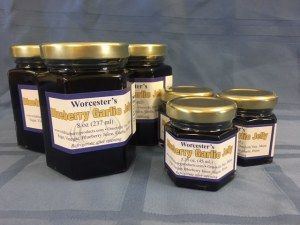 Bagles for an extra treat.